Step into the spotlight and demonstrate your professional prowess in the 2023 Awards for Excellence.
Whether you've transformed towering offices or refreshed a family home, we want to see your dedication to detail, precision, and innovation. This is your chance to paint your legacy, showcasing the skill that turns tired or blank into new and complete. Let the industry acknowledge your unmatched craftsmanship.
Entries for the painting industry's most prestigious awards are now open. You can download an Entry Form below.
Good luck!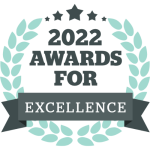 What a huge night our 2022 Awards for Excellence at RACV City Club was. Thank you to everyone who supported and attended the event. Nothing makes us happier than seeing families, colleagues, and the upcoming generation of professional painters coming together to celebrate the industry.
Congratulations to the Apprentices of the Year – Lachlan Batterham, Kyle Morrissy, Codie Davidson, and Leigh Mirams. We also congratulate all Apprentice of the Year runners up – Amy Dillimore, Rosie Eastwood, and Arthur Kokoris. We anticipate seeing you achieve a great deal more over your career.
Thank you again to all our valued sponsors: Monarch, Haymes Paint, Paintback, Resene, Cbus Super, Incolink, MGA Insurance, Manlift Hire, SwiftScaff, Zinsser, TradeGear.
Milestone Award Recipients
10 Years
Yarra Painting & Property Services
Tafe Gippsland
South Yarra Painting
Prime Painting Group
Poda's Painting
Mattioli Domestic & Commercial Painting Services
Joyce Painting & Decorating Services
Joe Issell Painting
De Groot Roof Painting

15 Years
Todaro Decorative Concepts Pty Ltd.
New Image Coating Pty Ltd
Credit Solutions
Cbus Super
Brad Sims Painting & Decorating
Azma Painting Services
Australian Brushware Corporation

20 Years
Rowville Painting Services
Peter Williams Master Painters
Paul Crusi Painter & Decorator
Balwyn Master Painters
Auspainters
21st Century Painting
25 Years
Women At Work Painters
Watkins Morgan Painting Service
Triple R Painting
The Paint Man
SK Styczynski Decorating Pty Ltd
Procoat Kitchens
Philip Chandler Painting Service
Mike Bailey's Paint Service Pty Ltd
Matt's Painting & Decorating
Living Colours Painting & Paperhanging
Fairfax Painting
ECI Painting Contractors Pty Ltd
Broz Contracting Pty Ltd
Anatoly Painting Service Pty Ltd
All Stars Painting & Decorating
AAA Master Touch Pty Ltd

30 Years P D Marslen Pty Ltd

40 Years L & A Petruccelli

50 Years McCormack Property Services Pty Ltd

60 Years Landells Signs Pty Ltd

65 Years Rothwell, J W – T/A Tuross Head Painting
Awards for Excellence Winners
Decorative Finishes – Commercial Platinum Edge Painting   
Decorative Finishes – Domestic TJC Painting and Decorating    
Finishing Trades Infinity Coatings
Heritage Restoration – Commercial Prestigious Painting and Decorating Services
Heritage Restoration – Domestic Prestigious Painting and Decorating Services
Industrial Coatings Platinum Edge Painting    
Lead Removal Restoration Gollings Master Painters Pty Ltd    
New Commercial Over $100,000 UBM Group Pty Ltd    
New Commercial Over $500,000 Platinum Edge Painting    
New Commercial Under $100,000 Clean Lines Painting and Decorating Pty Ltd    
New Domestic Over $30,000 Unicoat Pty Ltd    
New Domestic Under $30,000 Clean Lines Painting and Decorating Pty Ltd    
Repaint Commercial Over $100,000 Shoobert & Son Painting Contractors     
Repaint Commercial Over $500,000 Maiolo Painting Services Pty Ltd    
Repaint Commercial Under $100,000 Furlong Painting Pty Ltd    
Repaint Domestic Over $30,000 Women at Work Painters Pty Ltd  
Repaint Domestic Over $50,000 Melbourne Painting Company    
Repaint Domestic Under $30,000 Women at Work Painters Pty Ltd